Climate change (Class of 2019)
Interactions between climate science and international policymaking
This time, I talk mainly from the viewpoint of natural scientists, following narratives of historians of science (Weart, 2003, 2008; Edwards 2010) and recollections of those scientists who acted (Bolin, 2007; Schneider, 2009). Occasionally I will add other perspectives, e.g. Howe (2014).
Characteristics of global environmental problems
Local environmental problems (my simplistic view)
Victims are evident.

People suffering from toxication (Kôgai in Japanese)
Animal and plant species facing extinction (issue of nature conservation)

Perpetrators can be specified.
Environmental movements promote:

Stopping pollution
Compensate for damages
Restore good environment
Prevent activities that have risk of similar damages

Often, perpetrators are related to the government or big capitals (money). They also have scientists to back them.
Often, environmental movements are "grass-roots" and anti-establishments.
Global environmental problems
Often, the problems are not yet evident here and now, but recognized as future possibility.
Science must enter in

observation
prediction, warning

Everyone may be perpetrator or party of interest (in the case of global warming) (cf. ozone depletion)
Governments must enter because

mediation of conflicts of interest is needed.
long-term perspective is needed.
global policy is needed, and, in present situation, it must involve negotiations between national governments.
scientific research often requires funding from governments.

Observation network
Analysis of isotopes
Computing power and simulation technology

Both science and politics must enter, but science also requires independence from politics (in some sense). So some arrangements are needed.
Relationship between science-minded global environmental movements and grass-roots environmental movements are complex. (I cannot follow very well.)
History of some events
1957-1958: International Geophysical Year.

Artificial satellites (Sputnik by Soviet Union, Explorer by USA).
Start of observation of atmospheric CO2 in Hawaii and Antarctica.
Even though some components were military activities, the principle of data sharing was strong. World Data Centers network (now World Data System) was estabilished under International Council of Scientific Unions (now International Science Council).

1950s-1960s: Experimental detonation of nuclear weapons. Radioactive fallouts. Evident damage to people at some locations (e.g. Bikini Atoll of Marshall Islands). Widespread detection of radioactivity led to grass-roots awareness of some kind of global environmental change (though not climate change) by human activities. Tracer studies lead to great advance of the science of the climate system and the global biogeochemical cycles (e.g. carbon cycle).
1962: Silent Spring (Rachel Carson). Awareness of damage to (broad) ecosystems by artificial chemicals.
1960s: Discussions on environmental issues for policymaking started. Climate change due to CO2 was one of the many issues. e.g. U.S. President's Advisory Committee report in 1965.
Late 1960s - early 1970s: Plans to develop supersonic trasnport (SST) aeroplanes were discussed. One of that opinions that oppose the plans was possibility of depletion of stratospheric ozone by nitrogen oxides in the exausts from the engines.
1972: UN Conference on the Human Environment (Stockholm)
1972: Limits to Growth (Meadows et al., report to the Club of Rome)
1970s: awareness on drought and "desertification" in the Sahel zone of Africa, awareness of the effect of El Niño events on global food supply-and-demand situation.
1979: US NRC (Charney) report on CO2 and climate (just physical science of climate system)
1979: World Climate Conference convened by WMO
1980: World Climate Research Program (by ICSU and WMO) started. Note: Then, Interannual changes such as El Niño events were more emphasized than the issue of global warming.
1979 adopted, 1983 in force: [air pollution] Convention on Long-Range Transboundary Air Pollution
1983: US NRC (Nierenberg) report on CO2 and climate. Outlook of climate change, possible impacts, (crude discussion on) countermeasures.
1980s: Some climate scientists, especially Bert Bolin (Univ. Stockholm), arrange discussions with ecologists, agricultural scientists etc. and urge UN to organize scientific advisory for policymaking.
1986: SCOPE Report (Bolin et al., 1986)
1985: [ozone] Vienna Convention
1987: [ozone] Montreal Protocol
1987: Our Common Future (Brundtland report of World Commission on Environment and Development), "sustainable development"
1988: James Hansen's testimony at U.S. Congress
1988: Establishment of IPCC under UNEP and WMO (office in Geneva) [my error corrected]
1990: First Assessment Reports of IPCC
1992: UN Conference on Environment and Development (Rio de Janeiro); UN Framework Convention on Climate Change was adopted.
Role of scientists on global climate policymaking
Scientific advisory for policymaking. e.g. Jasanoff (1990)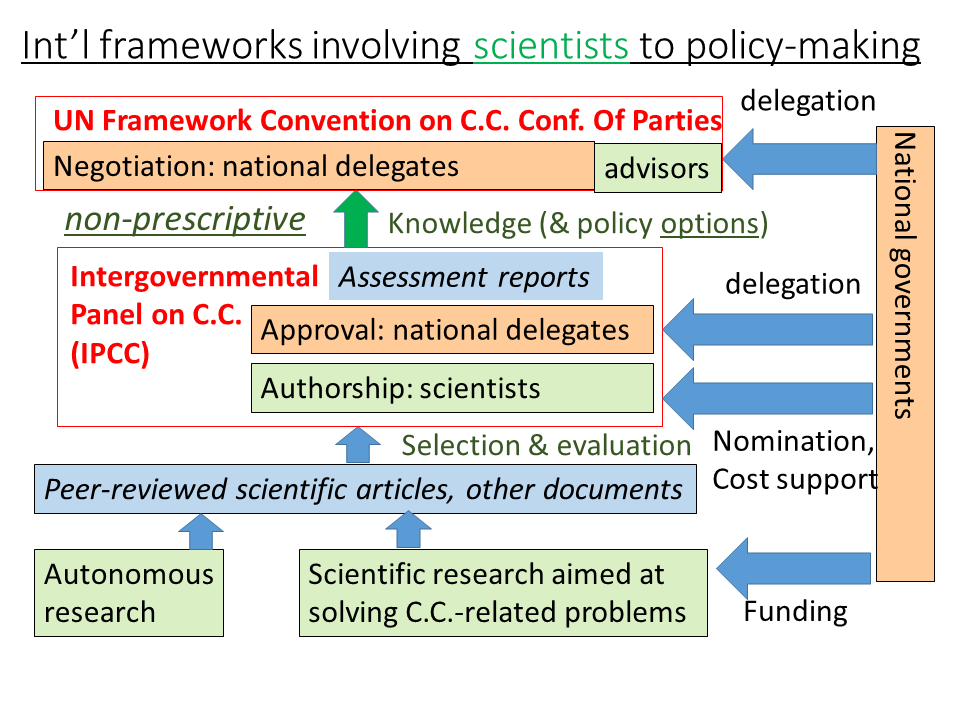 Some comments on science-policy relationship about climate change
IPCC is a well-designed "boundary organization" at the international science-policy interface.
But, influence of IPCC to UNFCCC COP and to actual national policies is not strong. (More direct science-policy interaction is needed?)
IPCC was designed as a temporary organization. But now it is considered to repeat AR cycles indefinitely. Its organizational sustainability is questionable.
In late 2009 – early 2010, distrust to IPCC broke out. Some suspicions were false, and some were relevant and led to reform of the governance of IPCC. But it is not sure whether IPCC recovered public trust.
IPCC Assessment Reports
Available in PDF from http://www.ipcc.ch or http://archive.ipcc.ch and (except very early ones) in print from Cambridge University Press.
1st: 1990
2nd: 1995 (published in 1996)
3rd: 2001
4th: 2007
5th: 2013-14
6th: 2021-22 (planned)
Working Groups of IPCC (configuration since the 3rd report)
WG 1: Physical science basis
WG 2: Impacts, adaptation and vulnerability
WG 3: Mitigation
Task Force on National Greenhouse Gas Inventories
Climate change and countermeasures (position of adaptation & mitigation)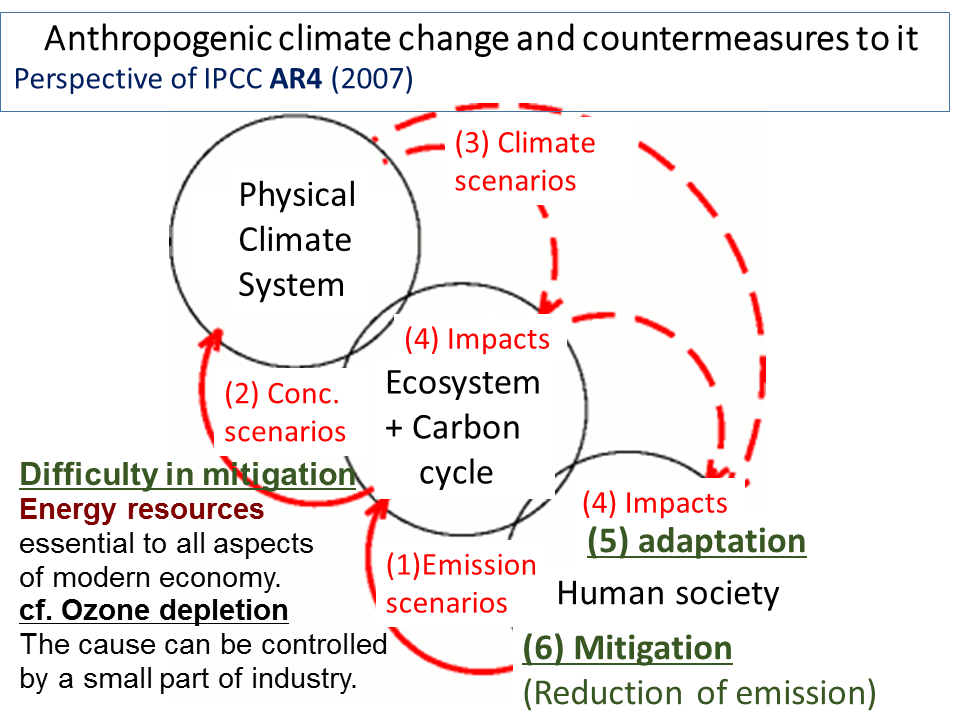 (+ carbon dioxide removal + solar radiation modification)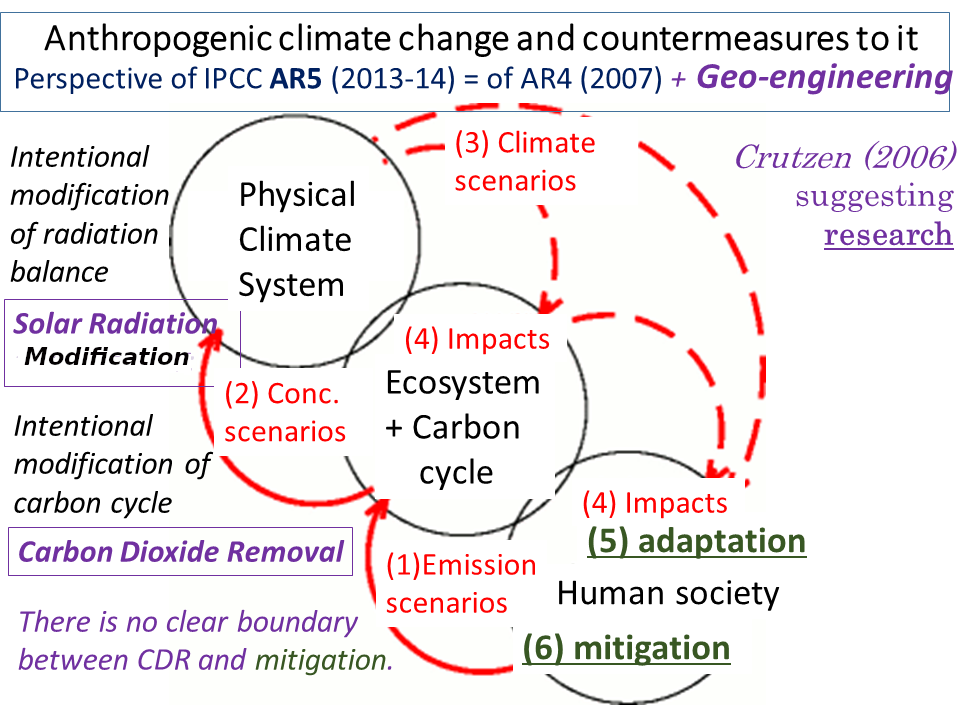 References (maybe moved to another page and here will be a link to it)
---
2019-June-13, update 2019-June-14, 2019-Nov.-08
MASUDA Kooiti